I have to admit I don't know much about Clam-Tron 4000 all I know is that he is a very kind & that he lives in Cog Hole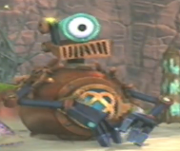 but he gave me this information.
He wants to be a technical type skylander.
He is embaressed to talk about his looks.
He can swim.
He is able to go 15 months without needing oil.
And the only food he doesn't like is cake,tiger bread & dumplings.